Happy Bike: Bicycles, Family and Lost Bets.
Over 15 years ago, Denise and Almir founded Happy Bike. Their success story was not something they had planned from the very beginning. What has now become a successful family business actually began as a hobby.
In his spare time, Almir used to love restoring old station bicycles. After a short time, the couple began to sell these beautiful bicycles on the bicycle exchange. They sold like hot cakes. Encouraged by the positive response and all the enquiries they got about whether they had a business, they began to develop more ambitious plans. Nevertheless, becoming self-employed was a jump in at the deep end, as Denise and Almir had originally studied for entirely different careers. But the risk was worth it. They opened their shops, first in 2007 and then in 2012 on Europaallee.
"As the years have passed, our business model has repeatedly changed. We have had to adapt to customer needs, of course… because what sold well in the village didn't work in the city, and vice versa. And the competition was growing all the time. Bike shops were springing up like mushrooms after rain," says Denise.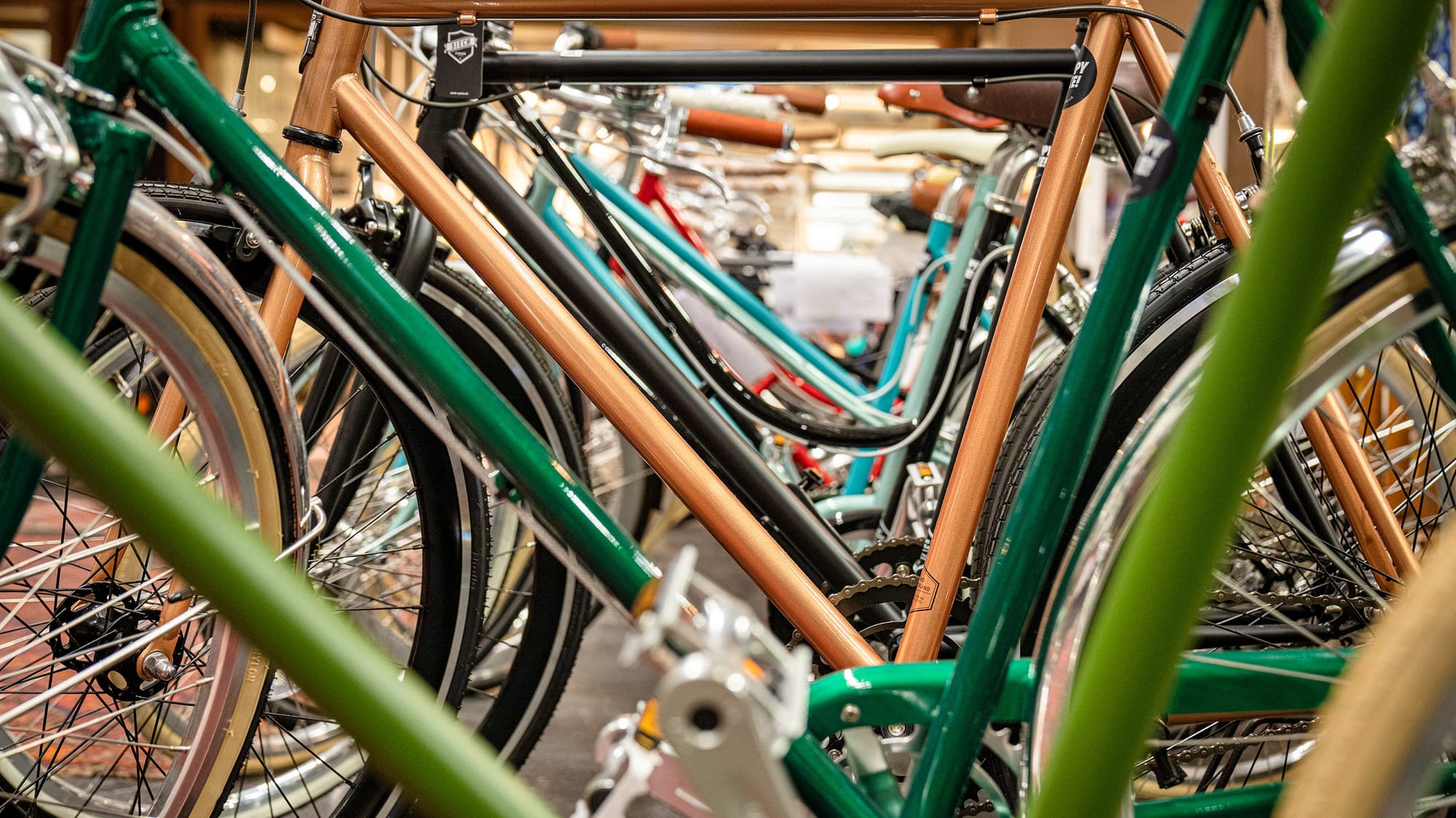 But they did not let this discourage them. For them, there is a solution to everything. This means being flexible on the one hand and always staying true to what they believe in on the other – so a good mixture of old-fashioned and modern, of established brands and new labels. That's why you can still find the good old station bikes in their shops, as well as e-bikes, fun bells, cool sportswear, freestyle scooters and beach cruisers. So basically (almost) everything. Particularly close to the hearts of this lovely couple are up-and-coming companies with innovative products, who, like them, are trying to make their dreams into reality. They are always happy to include them in the range.
A passion for bicycles is clearly in their blood. "We are a family business and the eldest of our three daughters successfully completed her apprenticeship with us during the first lockdown. So you'll always meet one of us personally when you visit the shop. That's very important to us." (Denise)
For them, when their employees go home in a good mood and when they have helped their customers, perhaps with discovering their dream bicycle, the day has been a success. You can try out their bicycles not only on the road, but also in the specially built big wheel on the sales floor of their Europaallee premises.
Something the couple will never forget is an incident which took place when their shop on Europaallee was being built: "Nothing was ready yet. We didn't have a building site manager and we went into the project with absolutely no idea of what we were doing. That's when we heard the builders outside making bets on which of the shops wouldn't make it through the 1st year. Well, they certainly lost that bet…. We may not be perfect and we're still learning all the time, but our hearts are in it and… we're still here!", says Denise with a twinkle in her eye.
Opening hours:
Monday – Friday: 9.30am – 7pm
Saturday: 9.30am to 6pm